Price and stocks are subject to change without prior notice.
This table is not exclusive, feel free to contact us for any enquiry.
(Last update on 8 Jan 2022)
Reminders:
Valid prescription is required for dispensing prescription-only medications. The prescription must be retained and kept by the pharmacy for two years from the date of dispensing.
Where prescriber specifies a particular branded product on the prescription, the registered pharmacist is required to dispense the product specified. If you would like to use generic drugs, chemical name, or instruction such as 'generic substitution is allowed' is written.

Please bring your own bag.
You are welcome to join the Medication Management Service: https://hia.org.hk/pharmacy/mms/
Payment Method: Cash, Octopus,PayMe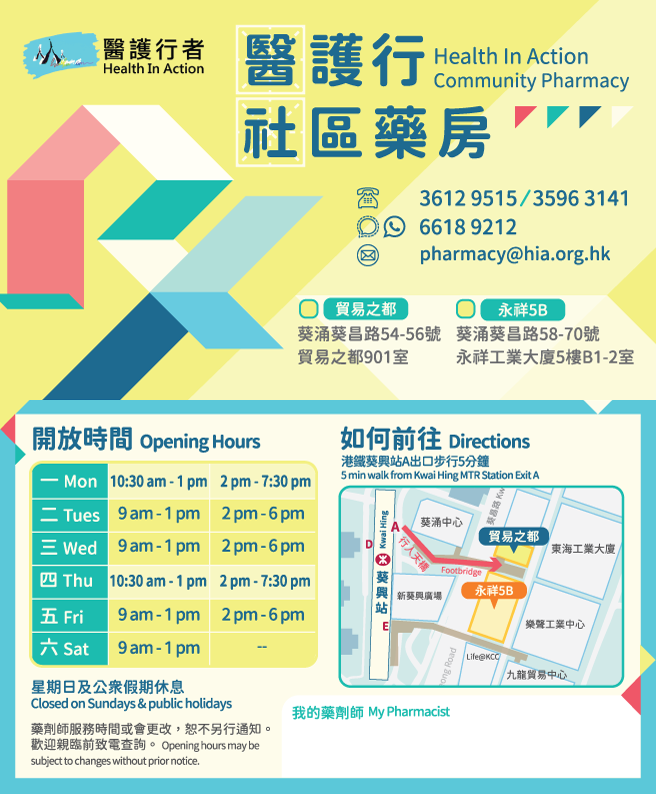 Phone Number:852-3612 9515
Discounts are available for prescriptions issued by Hospital Authority. Feel free to contact us for more information.

Discounts are available for prescriptions issued by Hospital Authority. Feel free to contact us for more information.

Discounts are available for prescriptions issued by Hospital Authority. Feel free to contact us for more information.

We offer additional promotion. Feel free to contact us for more information.

Brand name: Cartia (discontinued)

Brand name: Plavix 柏域斯

Price for generic drug: $120/box (30 tab)

Discounts are available for prescriptions issued by Hospital Authority:
1 box: $830/box (56 tab)
≥ 2 boxes: $680/box (56 tab)

Discounts are available for prescriptions issued by Hospital Authority:
1 box: $980/box (56 tab)
≥ 2 boxes: $800/box (56 tab)

Brand name: Norvasc 健壓樂

Price for generic drug: $45/box (30 tab)

Brand name: Norvasc 健壓樂

Price for generic drug: $60/box (30 tab)

We offer additional promotion. Feel free to contact us for more information.

Brand name: Blopress 博脈舒

Price for generic drug: $60/box (30 tab)

Discounts are available for prescriptions issued by Hospital Authority:
1-2 boxes: $54/box (30 tab)
≥ 3 boxes: $49/box (30 tab)

Discounts are available for prescriptions issued by Hospital Authority:
1-2 boxes: $103/box (30 tab)
≥ 3 boxes: $98/box (30 tab)

Discounts are available for prescriptions issued by Hospital Authority:
1-2 boxes: $190/box (30 tab)
≥ 3 boxes: $180/box (30 tab)

Brand name: Aprovel 卡壓舒

Price for generic drug: $56/box (28 tab)

Brand name: Aprovel

Price for generic drug: $84/box (28 tab)

Brand name: Cozaar 科素亞

Price for generic drug: $90/box (30 tab)

Brand name: Olmetec 安脈思

Price for generic drug: $90/box (30 tab)

降膽固醇藥 Drugs for Dyslipidaemia

Brand name: Lipitor 膽固清

Price for generic drug: $75/box (30 tab)

Brand name: Lipitor 膽固清

Price for generic drug: $90/box (30 tab)

Brand name: Ezetrol 易降醇

Price for generic drug: $180/box (30 tab)

Brand name: Lipanthyl Supra

Price for generic drug: $400/box (100 tab)

Brand name: Crestor 冠脂妥

Price for generic drug: $98/box (28 tab)

Brand name: Crestor 冠脂妥

Price for generic drug: $98/box (28 tab)

Brand name: Zocor 舒降之

Price for generic drug: $45/box (30 tab)

Brand name: Zocor 舒降之

Price for generic drug: $60/box (30 tab)

糖尿藥 Drugs for Diabetes Mellitus

Discounts are available for prescriptions issued by Hospital Authority:
1-2 boxes: $380/box (28 tab)
≥ 3 boxes: $345/box (28 tab)

Dapagliflozin/ Metformin XR 10mg/ 1000mg

Discounts are available for prescriptions issued by Hospital Authority:
1-2 boxes: $470/box (28 tab)
≥ 3 boxes: $430/box (28 tab)

Discounts are available for prescriptions issued by Hospital Authority. Feel free to contact us for more information.

Ertugliflozin/ Sitagliptin 15/100mg

We offer additional promotion. Feel free to contact us for more information.

We offer additional promotion. Feel free to contact us for more information.

Metformin Extended Release 500mg

Brand name: Acto

Price for generic drug: $120/box (30 tab)

Saxagliptin/ Metformin XR 2.5mg/1000 mg

Discounts are available for prescriptions issued by Hospital Authority:
1-2 boxes: $435/box (56 tab)
≥ 3 boxes: $405/box (56 tab)

Saxagliptin/ Metformin XR 5mg/1000 mg

Discounts are available for prescriptions issued by Hospital Authority:
1-2 boxes: $400/box (28 tab)
≥ 3 boxes: $370/box (28 tab)

We offer additional promotion. Feel free to contact us for more information.

We offer additional promotion. Feel free to contact us for more information.

Sitagliptin/ Metformin 50/1000mg

We offer additional promotion. Feel free to contact us for more information.

We offer additional promotion. Feel free to contact us for more information.

骨質疏鬆藥 Drugs Affecting Bone Metabolism

Brand name: Fosamax 福善美

Price for generic drug: $90/box (4 tab)

心血管疾病藥 Drugs for Cardiovascular Diseases

Sacubitril/ Valsartan 50mg

We offer additional promotion. Feel free to contact us for more information.

Sacubitril/ Valsartan 100mg

We offer additional promotion. Feel free to contact us for more information.

Sacubitril/ Valsartan 200mg

We offer additional promotion. Feel free to contact us for more information.

Brand name: Aldactone

Price for generic drug: $90/box (30 tab)

Brand name: Vastarel MR 維爽力

Price for generic drug: $300/box (100 tab)

降尿酸藥 Drugs for Hyperuricemia

We offer additional promotion. Feel free to contact us for more information.

勃起障礙藥 Drugs for Erectile Dysfunction

Brand name: Viagra

Price for generic drug: $120/box (4 tab)

泌尿科藥物 Drugs for Lower Urinary Tract Symptoms

Brand name: Avodart 適尿通

Price for generic drug: $210/box (30 tab)

Brand name: Proscar 保列治

Price for generic drug: $300/box (60 tab)

We offer additional promotion. Feel free to contact us for more information.

Brand name: Harnal OCAS 奧利新

Price for generic drug: $150/box (30 tab)

皮膚科藥物 Drugs for Dermatological Conditions

Amorolfine 5% Nail Lacquer (2.5mL)

Benzoyl Peroxide 5% Gel (15g)

Brand name: Propecia 保康絲

Price for generic drug: $150/box (30 tab)

Minoxidil 5% Topical Solution 60mL

Brand name: Regaine 倍健

Price for generic drug: 10% off for purchase of 6 boxes or above

Tretinoin 0.05% Cream 30 g

Lactic Acid/Salicylic Acid Solution (14mL)

哮喘/慢阻性肺病藥物 Drugs for Asthma and COPD

Budesonide/Formoterol 80/4.5mcg Turbuhaler

Discounts are available for prescriptions issued by Hospital Authority:
1-2 boxes: $170/pc
≥ 3 boxes: $160/pc

Budesonide/Formoterol 160/4.5mcg Turbuhaler

Discounts are available for prescriptions issued by Hospital Authority:
1-2 boxes: $250/pc
≥ 3 boxes: $240/pc

Budesonide/Formoterol 320/9mcg Turbuhaler

Discounts are available for prescriptions issued by Hospital Authority:
1-2 boxes: $380/pc
≥ 3 boxes: $360/pc

Budesonide/Formoterol 80/ 4.5mg MDI

Discounts are available for prescriptions issued by Hospital Authority:
1-2 boxes: $250/pc
≥ 3 boxes: $240/pc

Budesonide/Formoterol 160/ 4.5mg MDI

Discounts are available for prescriptions issued by Hospital Authority:
1-2 boxes: $380/pc
≥ 3 boxes: $360/pc

胃藥 Gastric acid Suppressants

Discounts are available for prescriptions issued by Hospital Authority:
1-2 boxes: $210/box (14 tab)
≥ 3 boxes: $199/box (14 tab)

Discounts are available for prescriptions issued by Hospital Authority:
1-2 boxes: $335/box (14 tab)
≥ 3 boxes: $320/box (14 tab)

Brand name: Nexium

Price for generic drug: $56/box (14 tab)

Brand name: Nexium

Price for generic drug: $56/box (14 tab)

Brand name: Losec

Price for generic drug: $70/box (28 tab)

Brand name: Celebrex 痛博士

Price for generic drug: $150/box (100 cap)

Brand name: Celebrex 痛博士

Price for generic drug: $250/box (100 cap)

Brand name: Acroxia 安痛易

Price for generic drug: $135/box (30 tab)

We offer additional promotion. Feel free to contact us for more information.

Brand name: Lexapro

Price for generic drug: $60/box (30 tab)

We offer additional promotion. Feel free to contact us for more information.

Brand name: Baraclude

Price for generic drug: $1176/box (120 tab)

Estradiol/ Didrogesterone 2/10mg

Additional discount is available for ordering of 6 boxes (100 tab per box). Feel free to contact us for more information.

Latanoprost 0.005% Eye Drop (2.5mL)

We offer additional promotion. Feel free to contact us for more information.

We offer additional promotion. Feel free to contact us for more information.

Brand name: Revatio

Price for generic drug: $800/box (100 tab)