Minor Ailment Service is a novel concept to many people in Hong Kong. Minor Ailment Service is one of the crucial roles of community pharmacists in primary healthcare system. The Minor Ailment Service allows citizens to make good use of a community pharmacy as the first port of call for the management of common illnesses:
Provide professional and reliable healthcare advice
Provide proper referrals to other healthcare professionals (e.g. doctors, nurses, physiotherapists, dietitians) according to your need
How to use Minor Ailment Service at your pharmacy? In the coming session, we will introduce the general concept and prodcedures for the service.
What are the common minor ailments?
Examples of minor ailments: colds and flu, headaches, dermatitis, allergic rhinitis, eye discomfort, skin problems, onychomycosis, sporadic diarrhea or constipation, muscle pain etc.
Who can enjoy the service?
Regardless of age, ethnicity, culture or occupation, our pharmacy service welcomes everyone.
How to use the service?
No reservation is required. Whenever you encounter any minor illnesses, you can visit our pharmacy and consult our pharmacists. You can also WhatsApp our pharmacists if you cannot come in person.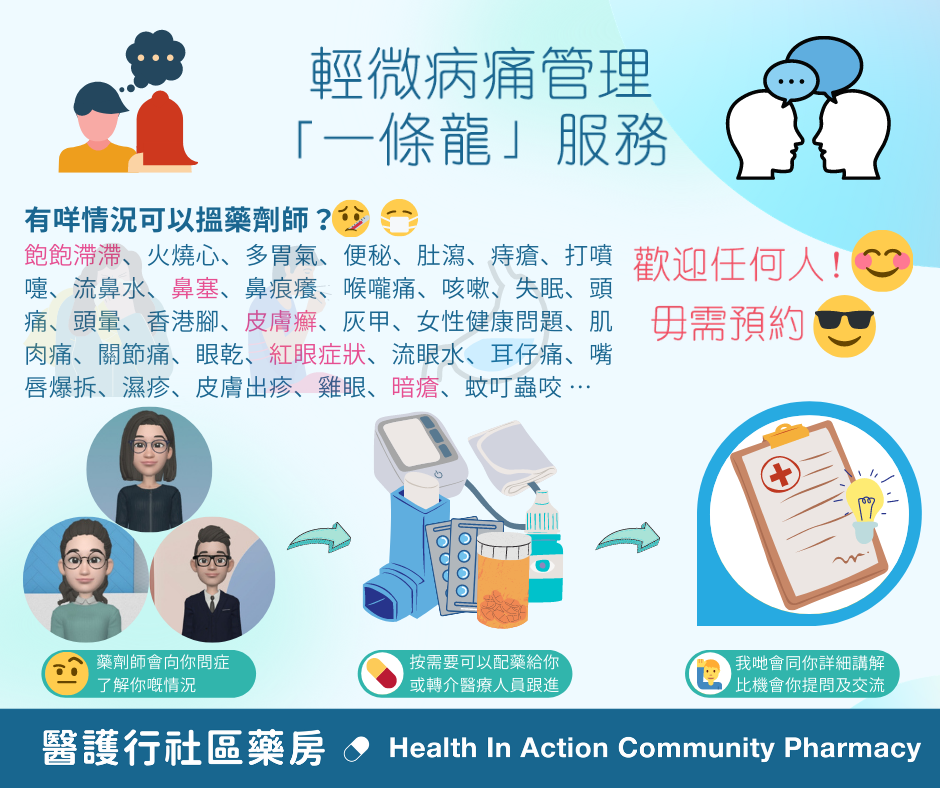 Three simple steps to minor ailment management:
Talk to the pharmacist about your illness (e.g. symptoms, onset, medical history, lifestyle, etc.)
The pharmacist will give advice for managing minor ailments and dispense appropriate medications (if applicable) for the condition. If the conditions are severe/complicated, the pharmacists will refer the patient to doctors for further diagnosis and treatments.
To ensure medication safety, the pharmacist will explain the medications in detail and suggest therapeutic lifestyle changes if necessary. Follow-up may be provided in some cases.